Message from the President
A well-rounded education for an women in the 21st century.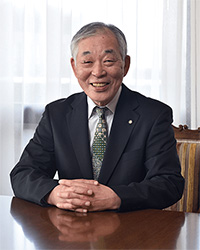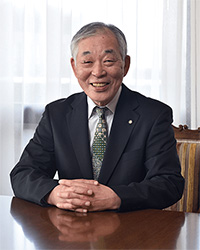 Mukogawa Women's University has as its objective the nurturing of 'true intelligence to continuously pursue truth', 'a sensitive and broad mind', and 'a spirit of consideration of and dedication to others' in female education, and provides a well-rounded education for women entering the work force for more global Japan. To realize this objective, the entire teaching staff follows a theme of promoting education, and as such, is engaged in cultivating identity, rationality, and an ability to reason, which are required to send independent and confident students out into society.
Since its establishment 76 years ago, Mukogawa Women's University has unrelentingly focused on practical education based on a strong educational philosophy, to nurture women able to contribute to individuals, the family, and society, while developing into one of the best general women's colleges in the nation. Currently, the university supports five schools with 13 departments, a junior college with seven departments, a graduate school with five postgraduate schools, and one graduate school. The school has a student population of approximately 13,000 students.
Students study in a variety of disciplines within an environment also designed to foster bright futures for women. Facilities include the following.
The Library holds approximately 600,000 books, and a wide range of electronic literature, materials, and DVDs.
The Hika Memorial Multi-media Building provides comprehensive and leading-edge facilities for information processing.
The Pharmacological Teaching and Research Building houses facilities for high-level experimentation and testing.
The first facility for educational research established in the School of Architecture in a Japanese women's university, the well-known architectural work of the Meiji period, the Koshien Hall (designated as a national cultural asset).
Three gymnasiums for sports, physical education, and exercise, and a general stadium (the Koe Memorial Ground).
In 1990, the academy established a branch school in Spokane, Washington in the US. The beautiful, expansive campus and its historical buildings are employed for teaching and accommodation, and the school teaches many students English and American culture from an international standpoint. Mukogawa Women's University also has active agreements with 23 universities in the US, Canada, the UK, Australia, the Republic of Korea, China, and Turkey for student and academic exchange.