Design 4: Single-story building with complex curved walls

In line with the present slope of the land, the floor levels of all exhibition rooms have been planned to gradually incline from the entrance towards the back of the interior. A sloped corridor on the courtyard side connects each exhibition room. Some of the partition walls between adjacent exhibition rooms will be operational and staircases will connect the exhibition rooms. The walls have irregular 2-D curved surfaces, but, up on the roof, this changes into complex 3-D curved surfaces. The bottom of the walls extends towards the ground like the roots of a tree. The complex 3-D curved surfaces represent the undulation of the rocks in nature and harmonize with the undulation of the mountains that are visible in the background as borrowed scenery.
Viewpoint 1: From the roof of the PDTRA office
The complicated curved walls and roof, which harmonizes with the sandstone mountains.

Viewpoint 3: From the entrance to the Visitor Center's Plaza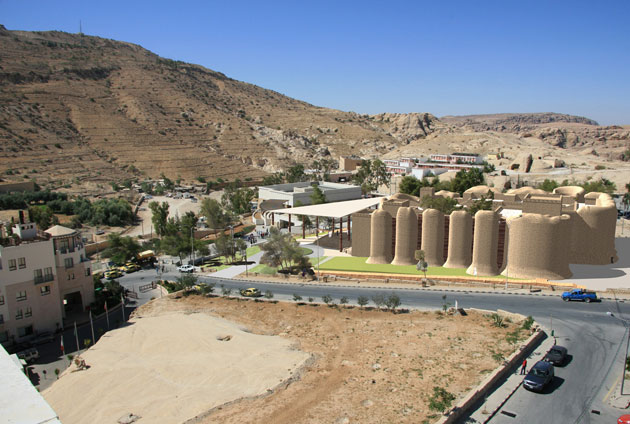 Viewpoint 9: From the Petra Moon Hotel's roof on the east side of the site
The appearance is divided into a small-scale oblong.
| | | |
| --- | --- | --- |
| | | |
| Viewpoint 2: From the entrance to the Al-Hussein Bin Talal University | | Exhibition room with irregular curved walls and sunlight |
Courtyard that preserves existing trees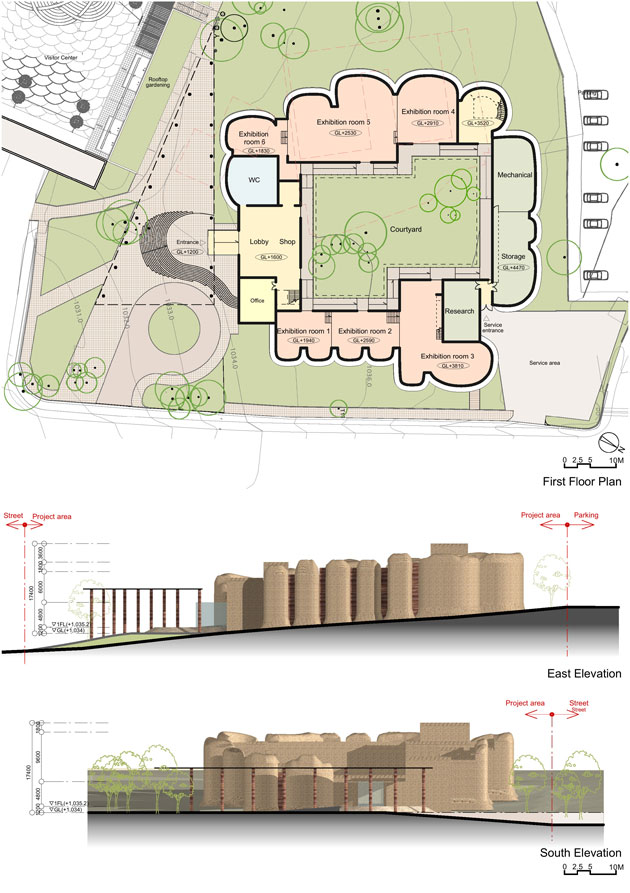 ■ Project Director; Architectural and Landscape Design
 Shigeyuki OKAZAKI: Professor Emeritus, Kyoto University,
          Professor, Head, Department of Architecture, Mukogawa Women's University
■ Architectural Design and Edit
 Department of Architecture, Mukogawa Women's University
  Noritoshi SUGIURA
  Toshitomo SUZUKI
  Hideaki TEMBATA
  Keisuke Inomata
  Ayane ISE
  Yuna HONGO
  Junko MORIMOTO
  Aya YAMAGUCHI