Message from the Chancellor
"Empowering Women to Chart Their Own Destiny." In an era when women are required to play ever more active roles, we foster women's lifelong capability of expanding their opportunities with their own determination and action.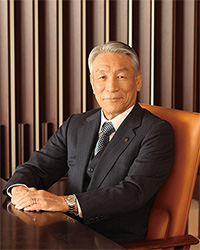 In 2020, we celebrated 81st anniversary of the founding of Mukogawa Gakuin, which represents our great strides toward our 100th year.
Taking the opportunity of the 80th anniversary of the foundation last year, and in anticipation of our 100th anniversary in 2039, we are moving ahead with the "MUKOJO ACTION 2019 → 2039" project, in which Mukogawa Gakuin will make even greater strides toward reaching its full potential. Under the "MUKOJO Vision 2019 → 2039" project, entitled "Empowering Women to Chart their Own Destiny", we accepted the challenge of reforming Mukogawa Women's University and our women's educational institutes.
In 1939, the founder of Mukogawa Gakuin, Professor Kiichiro Koe, founded Mukogawa Girls' High School, the predecessor of Mukogawa Women's University. Professor Koe's visits to and inspection of private schools, such as Eton College, and Cambridge and Oxford Universities in England became the trigger for the founding of Mukogawa Gakuin. Deeply impressed by the fact that elite British private schools not only provided instruction in conventional subjects but also emphasized cultural appreciation and character-building, Professor Koe was determined to create an ideal educational institution.
Professor Koe incorporated the concept of women's empowerment into the school's foundational philosophy, the "Educational Ideal", which propounded the concepts of "high intelligence, noble sentiments, and lofty virtue". Ever since then, our university has strived to promote this concept and simultaneously to imbue our students with the same goals; meaning not just a specialized education, but a well-rounded education, "fostering a broad education with diverse human connections" that allows women to actively engage with others, at work, and at home. By promoting education that fosters independence, logic and action, we have been able to send responsible adults into society at-large, who are ready to contribute to society proactively.
You can see Professor Koe's legacy in the Mukogawa Gakuin's Museum (the Founder's Room) on the first floor of the Koe Memorial Hall, which is the base of the Mukogawa School of Business Administration, launched in April as our first social science faculty.
In April, Mukogawa Women's University opened three new faculties; the Faculty of Food Sciences and Nutrition, the Faculty of Architecture, and the Faculty of Business Administration, making it an all-around women's university with 10 faculties and 17 departments. In addition, the Institute for Women's Career Advancement and Gender Equality Development was established as a university-affiliated research institute. Further, in October last year, we opened a new campus, the Mukojo Station Campus at Naruo-Mukogawajoshidai-Mae Station on the Hanshin Electric Railway, which has become our gateway station. This is Japan's first full-scale university facility located under an elevated train station, which serves a community creation zone connecting the university and the local community for information sharing. The "MUKOJO Vision 2019 → 2039" is a statement of Mukogawa Gakuin's convictions and determination.
"In this current era where women are expected to take on increasingly active roles, we send vibrant, individually-minded women out into the world. We foster women's lifelong capability of expanding their opportunities with their own determination and action. This means evolving the founder's educational ideals for a new era."
In the coming years, there will be a greater demand for gender equality in all areas of society; the opportunities for women to play an active role in society will expand and globalization is expected to expand that even further. In these times, as an all-women's university, we believe that we have a responsibility to educate "independent and capable women who can contribute to society" by providing a distinctive education that is difficult to find at a co-educational institution.
The "MUKOJO Vision 2019 → 2039" will continue.
"Now is the time for women's universities to change. We must empowering women to chart their own destiny. Mukogawa Gakuin and Mukogawa Women's University are striving to elevate women's education to even greater heights".