Message from the President
Our university's role and responsibility for fostering women as members of society is increasing.Taking advantage of our strengths as a women's university, we will do our best to support our students at every turn in their self-development.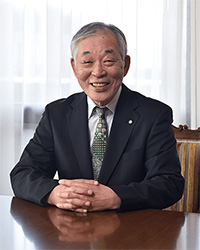 Nowadays, women are required to play even greater roles in society. At a time when the fostering of women as members of society is one of the most pressing challenges in a gender-equal Japan, the role and responsibility of our university, as a women's university, is ever increasing.
Mukogawa Gakuin, which celebrated its 80th anniversary in 2019, used it as an opportunity to look ahead to its 100th anniversary, and launched the "MUKOJOACTION 2019 → 2039" project, which aims at even further expansion. On May 1st, 2019, when the imperial era changed to the "Reiwa era", we officially announced the "MUKOJO Vision 2019 → 2039", entitled "Empowering Women to Chart their Own Destiny". Looking toward the new era, Mukogawa Gakuin has demonstrated its deep commitment to sending women out into the world who have a lifelong capability of expanding their opportunities with their own determination and action.
To achieve this vision, this spring, Mukogawa Women's University opened three new faculties, the School of Food Sciences and Nutrition, the School of Architecture, and the School of Business Administration, in addition to the Graduate School of Architecture, and thus began a new era as a women's university with 10 faculties and 17 departments, seven junior college divisions, seven graduate schools, and 13 research institutes.
Professor Kiichiro Koe, the founder of Mukogawa Women's University, expressed his ideal of "fostering versatile women of high intelligence, noble sentiments, and lofty virtue" as noted in the "Educational Ideals".
"High intelligence" means unsurpassed intelligence that continuously seeks the truth.
"Noble sentiment" means a broad-minded spirit with to sensitivities.
"Lofty virtue" means the spirit of consideration and dedication to others.
We aim to foster women who possess all three of these qualities, and our goal is to women so they can contribute to people, families, and society. The rich education received at Mukogawa Woman's University provides well-rounded education fosters a broad range of knowledge and a rich sense of humanity. In addition, in order to send out independent students into the world, the university's faculty and staff are united in their commitment to women's education that cultivates independence, logic and action, with each of us working hard each day in the areas of education, research, university administration, and student support.
With this new 10-faculty system, the fields of learning have expanded to include the humanities, sciences, health and sports, the arts, life sciences, health and hygiene, and social sciences, creating a comprehensive, specialized learning environment unique to our university.
At this campus, we will do our utmost to support students as they learn and hone their skills at every turn, while, at the same time, continuously making great efforts to improve the future of women's education.