Proceedings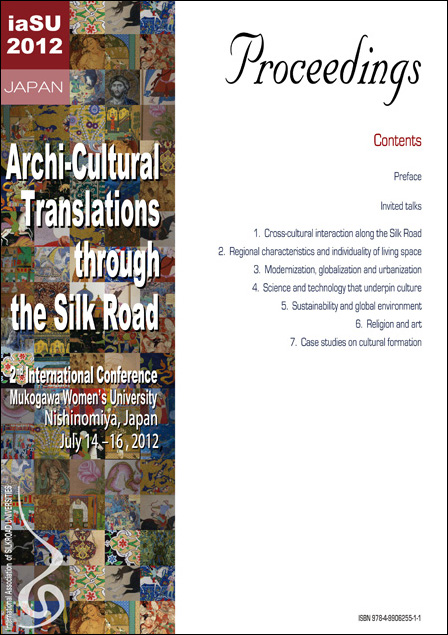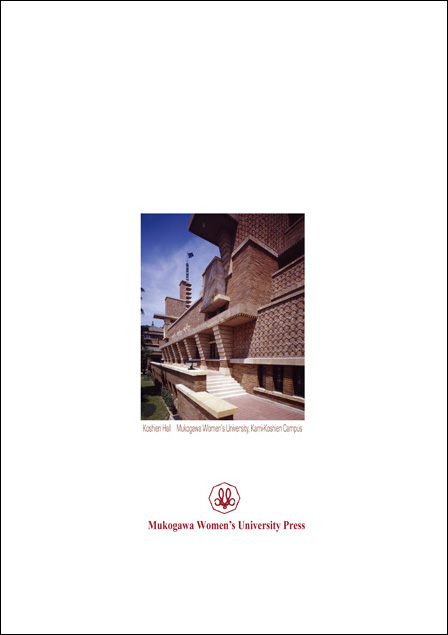 ISBN 978-4-9906255-1-1
Ryo Okawara

..........viii




Invited talks

001
ADVANCED SEISMIC DESIGN OF BUILDINGS FOR THE RESILIENT CITY

Akira Wada, Nobuyuki Mori

...........002

002
TRACING THE ORIGIN OF JAPANESE PAGODAS ALONG THE SILK ROAD

Koji Miyazaki

...........008




1. Cross-cultural interaction along the Silk Road

101
THE ORGANIZATION OF LONG-DISTANCE TRADE AND ITS INFLUENCE ON THE SETTLEMENT TYPOLOGY IN ANATOLIA IN THE OTTOMAN SOCIETY

Sezin Tanriover, Huseyin Tanriover

...........015

102
CUBOCTAHEDRON AS A POTENTIAL EVIDENCE OF THE "CULTURAL BRIDGE" BETWEEN KYOTO AND KAYSERI

Hakan Hisarligil

...........020

103
TRANSITIONS AND USAGE OF SAWS IN THE EURASIAN CONTINENT: THE COMPARATIVE HISTORY OF THE DEVELOPMENT OF TECHNIQUES AND TOOLS TO CREATE WOODEN ARCHITECTURE

Marcelo Nishiyama, Akira Watanabe

...........026

104
CULTURAL EXCHANGE IN THE HISTORY OF ARCHITECTURE

Uzushi Nakamura

...........030

105
HIEROPHANIC INFLUENCES ON TIMURID ARCHITECTURE ALONG THE SILK ROAD

Elena Paskaleva

...........036

106
ARCHI-CULTURAL PARALLEL OF PERSIAN AND TURKISH BAZAAR ALONG THE SILK ROAD
CASE STUDIES: REY, TABRIZ AND ISTANBUL BAZAAR

Mohammad Reza Pourjafar, Ghodsieh Samani, Ali pourjafar, Razieh Hoorshenas

...........042

107
INVESTIGATING THE SUSTAINABLE CITY INDICATORS THROUGH PROMOTING PHYSICAL SECURITY IN THE MARGINS OF THE SILK ROAD (CASE STUDY: YAZD CITY)

Zahra Sadat Saeideh Zarabadi, Taimaz larimian, Mohsen Foruzanfar

...........048

108
SYMBIOSIS BETWEEN MAN AND NATURE: JAPANESE INFLUENCE ON LANDSCAPE ARCHITECTURE OF ISLAMABAD

Abdul Rehman

...........053

109
THE CROSS-CULTURAL INTERACTION BETWEEN THE ART OF GARDEN DESIGN OF OLD CITIES OF IRAN AND INDIA ALONG THE SILK ROAD

Mohammad Reza Pourjafar, Mohammadjavad Mahdavinejad,
Mostafa Shamshirband*, Saeed Farmahin Farahani, Razieh Hoorshenas
*Presenting author

...........057




2. Regional characteristics and individuality of living space

201
STUDY OF SENSE OF DEPTH IN THE VIEW OF ENTSU-JI TEMPLE GARDEN

Noritoshi Sugiura, Miyuki Ami

...........064

202
ICE SHELL - CONTEMPORARY 'KAMAKURA'

Tsutomu Kokawa, Koji Watanabe, Tohru Watanabe

...........070

203
ARCHITECTURAL THEORETICAL EXAMINATIONS OF TYPICAL JAPANESE SPATIAL CHARACTERISTICS IN INTERIOR SPACES OF KYO-MACHIYA TOWNHOUSES

Takahiko Otani

...........076

204
THE INFLUENCE OF IRANIAN ISLAMIC ARCHITECTURE ON TRADITIONAL HOUSES OF KASHAN

Atefeh Zand Karimi, Bahareh Hosseini

...........081

205
HISTORICAL STUDY OF SITTING IN JAPAN: WITH "SEIZA" AS MAIN TOPIC

Yusei Tazaki

...........087

206
A PHENOMENOLOGICAL APPROACH TO FOLDINGS AS SPATIO-TEMPORAL CONTINUITY THROUGH THE MOTIFS OF TURKISH FOLK SONGS AND TURKISH RUGS

Beyhan Bolak Hisarligil

...........093

207
CONCEPT OF 'SACRED SPACE' IN TRADITIONAL TURKISH ARCHITECTURE

Murat Dundar

...........099

208
TYPICAL MOUNTAIN IMAGE OF TURKISH STUDENTS BASED ON LANDSCAPE MONTAGE TECHNIQUE: THROUGH COMPARISON WITH JAPANESE STUDENTS

Kazuhiko Yanagisawa, Shigeyuki Okazaki, Murat Dundar

...........105

209
STUDY ON PREFERENCE OF TOURISTS ON THE LANDSCAPE OF FLOWERING CHERRY TREES AT YOSHINOYAMA, NARA PREFECTURE, JAPAN

Junichi Imanishi, Yosuke Harada, Yoshihiko Iida, Ryo Higashiguchi, Yukihiro Morimoto

...........111

210
STUDY ON FORMS OF HISTORICAL WEIRS IN JAPAN AS LANDSCAPE ELEMENTS

Shuichi Murakami

...........115

211
BELBAR, FROM LIMITATIONS TO OPPORTUNITIES DISCOVERING THE NATURAL POTENTIALS

Atyeh Ashtari, Faranak Khas Ahmadi, Paya Salem, Mona Tajeddini

...........121

212
SPATIAL COMPOSITION OF THREE INTERMOUNTAIN SETTLEMENTS LOCATED ON SLOPES IN NORTHERN AND CENTRAL TURKEY

Toshitomo Suzuki, Shigeyuki Okazaki

...........127

213
RELATIONSHIPS BETWEEN FENG-SHUI AND LANDSCAPES OF CHANGAN AND HEIJO-KYO

Hideaki Tembata, Shigeyuki Okazaki

...........133

214
"THE IMAGE OF THE WORLD" OF THE TRADITIONAL LIVING SPACES IN JAPAN: COMPARING TO THE ONE OF THE DESERT CIVILIZATIONS

Takashi Doi

...........139

215
VILLAGE HABITATIONS OF HOWRAMANAT VALLEY, IRAN

Majid Ziaei

...........145




3. Modernization, globalization and urbanization

301
TRENDS OF URBAN DEVELOPMENT PLANS
IN HISTORIC AREA IN EAST ASIA

Nobuya Ueda, Shigeki Sugita

...........152

302
STUDY ON REVITALIZATION OF HOUSING COMPLEXES THROUGH UTILIZATION OF OPEN SPACES BASED ON RESIDENTS' ACTIVITIES

Shigeaki Takeda

...........158

303
A SILK ROAD BLUEPRINT: RELIGIOUS KINSHIP AND STATE CONSTRUCTION PROJECTS IN THE DEVELOPMENT OF A NORTHWESTERN CHINESE BORDERLAND, 1912-1946

Tristan G. Brown

...........163

304
APPEARANCE OF SLUMS, SIDE EFFECT OF DEVELOPMENT

Amir Shahrad

...........168

305
CROSS CULTURAL EDUCATION IN ARCHITECTURE: FINDINGS FROM TEACHING INTERNATIONAL STUDENTS TRADITIONAL JAPANESE ARCHITECTURE AND GARDENS

Arno Suzuki

...........173

306
A PSYCHOLOGICAL ANALYSIS OF THE SOCIAL PROBLEMS ARISING FROM MODERNIZATION, GLOBALIZATION AND URBANIZATION

Mari Aoki

...........179

307
ISTANBUL FIRES IN THE 19TH CENTURY: AN ANALYSIS ON ARCHITECTURE AND URBAN PATTERN

Pinar Sunar, Zeynep Ceylanli

...........182

308
ANARCHIST DESIGN

Fatemeh Ziaei

...........186




4. Science and technology that underpin culture

401
THERMAL ENVIRONMENT IN AJANTA CAVES

Tomoko Uno, Yoshiko Shimazdu

...........191

402
RESEARCH OF ANTI-FREEZING FOR THE BUDDHIST IMAGE CARVED ON TUFF CLIFF BY CLOSING SHELTER

Masayuki Morii

...........197

403
AIR CONDITIONING IN IRAN DESERT

Mohsen Ziaee, Ahmad Fakhar

...........201

404
CHARLES CORREA'S HOUSING LANGUAGE

Belinda Torus

...........207

405
THEORETICAL AND HISTORICAL PERSPECTIVES IN DESIGN, INNOVATION AND POLICIES
E. Tezel

...........213

406
NATURAL VENTILATION AROUND OPEN GROUND FLOORS WITH PILOTIS IN HIGH-RISE RESIDENTIAL BUILDINGS IN TROPICAL AREAS: HARMONIZATION OF MODERN AND TRADITIONAL HOUSING IN TROPICAL AREAS

Abdul Razak Sapian, Noor Hanita Abdul Majid, Shuichi Hokoi*
*Presenting author

...........219

407
EVOLUTION OF TIMBER CONSTRUCTION IN TURKEY

Gorun Arun

...........225

408
FLYING A 100m-LONG JUMBO KOINOBORI

Mamoru Kawaguchi

...........231

409
SEISMIC RETROFIT OF HIGH-RISE BUILDING WITH DEFORMATION-DEPENDENT OIL DAMPERS

Osamu Hosozawa, Yuichi Kimura, Hideshi Aono

...........236

410
SEISMIC PERFORMANCE AND REINFORCEMENT OF JAPANESE HIGH-RISE BUILDINGS FACING SUBDUCTION EARTHQUAKE: E-DEFENSE SHAKE TABLE TESTS

Takuya Nagae, Masayoshi Nakashima

...........240

411
THE 2011 VAN EARTHQUAKES OCURRED IN TURKEY

Baris Denizer, Takuya Nagae

...........245




5. Sustainability and global environment

501
SUSTAINABLE SOCIETY: ENERGY SAVING CONSTRUCTION

Shushi Sugiura

...........251

502
NATURE AS A SOURCE OF SUSTAINABLE DESIGN IN ARCHITECTURE OF ORIENTAL COUNTRIES (CASE STUDY: TRADITIONAL ARCHITECTURE OF IRAN)

Shaghayegh Afrasiabian, Mohammadjavad Mahdavinejad, Negar Badri

...........257

503
ROLE OF CULTURE IN SUSTAINABLE ARCHITECTURE

Sinem Kultur

...........262

504
OYA PROJECT OF SYNCHRONIZED CAVE COMPLEX: UNDERGROUND REVITALIZATION PLAN UTILIZING ABANDONED MINES

Itsuo Kamiya

...........268

505
SUSTAINABLE BIODIVERSITY AND COMMUNITY DESIGN IN HYOGO JAPAN

Mayumi Hayashi

...........274

506
AKSARAY SULTANHAN CARAVANSERAI: A STUDY OF CULTURAL INTERACTIONS AND SUSTAINABILITY ALONG THE SILK ROAD

F. Yesim Gurani, Tulay Ozdemir Canbolat

...........277

507
PERSIAN GARDENS ARE SUSTAINABLE GARDENS: SCRUTINIZE THE SUSTAINABLITY FEATURES IN PERSIAN GARDENS

Hirbod Norouzian Pour, Mehri Motahari Rad, Samane Motaghi Pishe

...........280




6. Religion and art

601
A STUDY OF THE LANDSCAPE AT THE WANG RIVER VILLA THROUGH ANALYSIS OF THE POEM "DEER PARK" BY WANG WEI

Akira Tanaka

...........287

602
THE STUDY ON THE SOUNDSCAPE OF THREE JAPANESE GARDENS

Haruyoshi Sowa

...........293

603
BUDDHIST ATTITUDE TOWARDS CULTURE AND OTHER RELIGIONS

Rev. Satyananda Sraman

...........296

604
STUDYING THE GRAPHICAL STRUCTURE ALTAR INSCRIPTIONS AND AROUND NEYRIZ GREAT MOSQUE

Azam Monazzah, Mohamad Khazaei*
*Presenting author

...........302

605
A STUDY ON THE ORNAMENT OF THE FORMER KOSHIEN HOTEL: ARATA ENDO'S PHILOSOPHY ON ARCHITECTURAL BEAUTY AND ITS DEVELOPMENT THROUGH ORNAMENT

Jun Sakakihara

...........306

606
A STUDY OF THE SIGNIFICANT INFLUENCE BY SHIN-BUDDHISIM TO THE TRUELY ORIGINAL JAPANESE CRAFTS DESIGN

Satoru Kiyosawa

...........312

607
A BREIF SURVEY ON THE PRINCIPLES OF IRANIAN ISLAMIC ARCHITECTURE

Bahareh Hosseini, Atefe Zand Karimi

...........318

608
ORIGINALITY OF CENTRAL COLUMN IN JAPANESE PAGODA

Fumie Ooi

...........324

609
AN ARTUQID BUILDING: DUNAYSIR GREAT MOSQUE

Hilal Aktur

...........330

610
CONSISTENCY THROUGH DIVERSITY IN TRADITIONAL ARCHITECTURE OF ORIENTAL COUNTRIES IN CASE OF IRAN, JAME MOSQUE OF QAZVIN

Mohammadjavad Mahdavinejad, Nickta Pilbala*, Mostafa Shamshirband, Saeed Farmahin Farahani
*Presenting author

...........336

611
MOUNTAINS PAINTED IN CHRISTIAN PAINTINGS IN THE MONASTERY OF HOSIOS LOUKAS

Keisuke Inomata, Shigeyuki Okazaki

...........342

612
1 SILK PATH / 2 NAKAGAWA-MACHI MOUNTAIN PATH: 1 TO 2 COMPARISON CONTROVERSIES

Bojan Milan Koncarevic

...........348

613
LINKING ROUTES FROM THE SILK ROAD THROUGH NEPAL - THE ANCIENT PASSAGE THROUGH MUSTANG AND ITS IMPORTANCE AS A BUDDHIST CULTURAL LANDSCAPE

Susanne von der Heide

...........354

614
TURKMEN RUG MOTIFS IN RENAISSANCE PAINTINGS: REFLECTIONS ON THE JOURNEY OF TURKMEN MOTIFS FROM EAST TO WEST
Mahnaz Shayestehfar, Mohammad Khazaie, Rezvan Khazaie, Erfan Khazaie

...........360

615
ZEYNEL BEY TOMB: THE UNIQUE PERSIAN TOMB IN ANATOLIAN PLATEAU

Ashkan Mansouri, Mustafa Caghan keskin

...........365




7. Case studies on cultural formation

701
BEHAVIOR OF STUDENTS IN A NEW TYPE OF JUNIOR HIGH SCHOOL IN JAPAN

Satoshi Matsushita

...........372

702
THE SPIRITUAL JOURNEY: A STUDY OF THE SPATIAL ATTRIBUTES FOUND BETWEEN CAR PARK AND INNER SHRINE

Luke Chalmers

...........378

703
CARAVANSARIES: THE ARCHITECTURAL TREASURES OF SILK ROAD AND THE CASE OF KAYSERI-SULTANHANI

Gonca Buyukmihci

..........384

704
AN EXAMINATION OF THE USE OF THE CARAVANSERAI AT CAPPADOCIA ON THE SILK ROAD; SARUHAN CARAVANSERAI

Z. Ozlem PARLAK BICER, Fusun KOCATURK

...........390

705
RESEARCH FOR LAND USE PROCESSING OF TEA PLANTATIONS IN A MOUNTAINOUS REGION

Shinya Kimura, Shuichi Murakami

...........395

706
A DELEUZEAN INTERPRETATION OF URBAN MORPHOLOGICAL TRANSFORMATION

Saeid Nazari Adli, Mohsen Mohamadzadeh

...........401



iaSU2012 JAPAN Committees
..........407
Financial Supporters
...........409

All pages (90.5MB)
Copyright remains with the author(s).
No part of this publication may be reproduced in any form or by any means without
permission from the copyright owner.